20 novembre 2013
I finally tried passage 53 by chef Sato.
Since it got his first star that i wanted to go... And then the second...and not yet visited... Shame on me!!!
It's now done... And i can tell you that if it was not so complicated to book that i will go more often!!!
I had an excellent experience, i went for the small menu with the white truffle option, everything was perfect, so precise...
A special bravo for the desserts... And specially the mont blanc to die for!!!
- Pumpkin cream, cinnamon foam and cheese
- Squid and variation of cauliflower
- Scallops variation of mushrooms and walnut oil
- Ravioli of brown onion confit , root cream, parmesan and white truffle.
- Bresse chicken, risotto, yellow wine sauce and potatoes.
- Deer
- apple dessert
- best Mont blanc ever, tiramisu and signature chocolate pie
I highly recommend Passage 53.
Food is amazing, service is excellent, price is convinient.
The menu costs 150 euros.
53 passage des panoramas 75002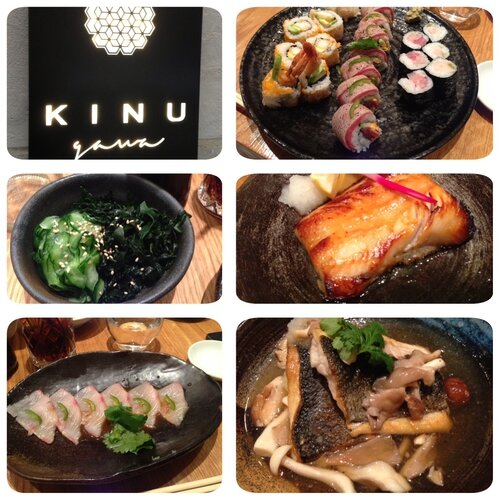 Kinugawa is my favorite japanese restaurant in Paris. It is owned by Black code group ( orient extreme). They totally refurbish the place maybe 2 years ago. It's elegant and trendy.
Food is really good, simple, healthy...
- wakame cucumber salad
- hamachi sashimi yuzu
- maki maguro, maki hamachi, ebi tempura california
- black cod
- steamed seabass in a radish soya broth
I highly recommend this place.
Kinugawa: 9 Rue du Mont- Thabor 75001
Tel 0142606507
05 août 2013
The 114 Faubourg is the brasserie of the Bristol Hotel Paris. It got it first Michelin star this year, and I'm really happy for them because they really deserve it. I went several times, i tried almost all the menu but my very favorite, why I like to go to 114 is the beetroot and comté salad so beautiful and delicious and the Cheeseburger so amazing!!!
Desserts are also really good specially the millefeuille with caramel Yummy Yummy.
I highly recommend this restaurant.
They close on the WE and that is really fun!!!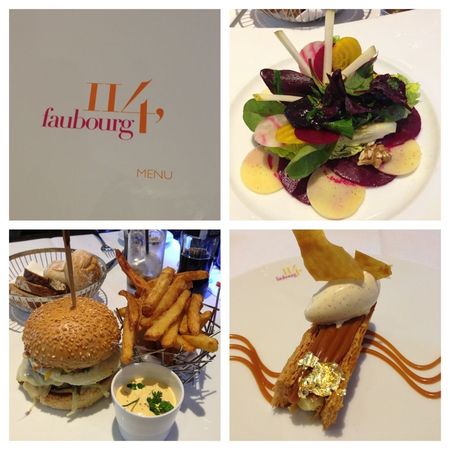 12 février 2013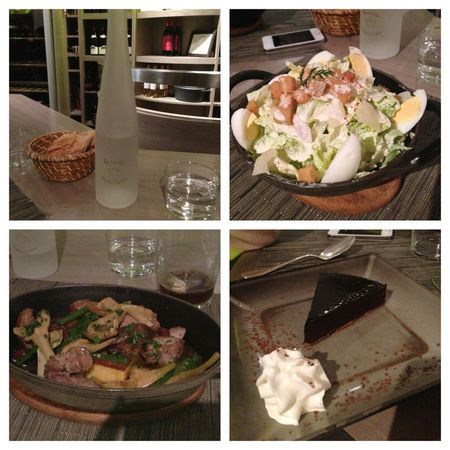 I hesitated to write this note...but The idea behind this blog is to share being objective my experience!!!
Christian Constant seems to be really a nice guy, and I know that he's really a great chef.
But I tried one of his restaurants les Cocottes and I was so disappointed... Not only disappointed but also upset...
The idea, the concept are really nice, a venture with the brand Staub, everything comes in a cocotte.
But the food is so crap, ok it is not expensive but it is not a reason.
I prefer to pay a bit more and to be satisfied.
And also i'm deeply convinced that even not expensive if passionate we can make good stuff
I ordered the Caesar salad... The waiter bring it in less than a minute... What already can tells you that it's all prepared in advance what I really hate.
Even Mac Donalds nowadays try not to stock sandwiches and make them to order.
The salad was so cold that My teeth were suffering
Then I asked for the lamb, it comes with a polenta, i asked if it's possible to change de polenta for the gratin dauphinois, of course No... Everything is already prepared. And for this dish i'm with no pity as it costs 29 euros
The lamb was from a so so poor quality and worse... So chewy and fat i was not able to say which part of the lamb it is ( but for sure not the nice part as the shoulder, cutlets, leg...) the juice was with no taste, the polenta no interest!!!
Grrrrrrr...
For same price I prefer by far a club at Costes, the lamb at orient extreme and so many things in so many nice places.
I was having huge hopes on desserts to raise a bit the level. I went for the chocolate pie by Christian Constant.... And... No comments...
Les Cocottes
135, rue Saint-Dominique, 75007 Paris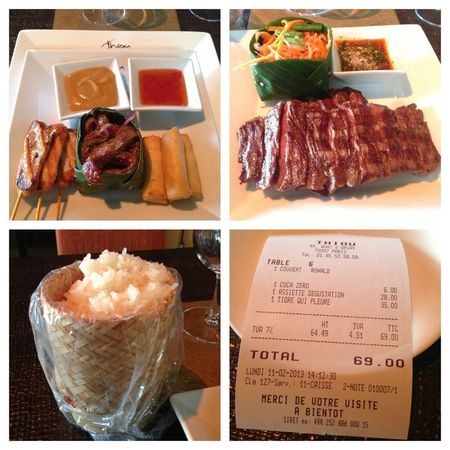 Since a while, eachtime I cross by quai d'orsay I say " I have to try Thiou". Today I said it... Then I said " try it now... It's time to lunch"
The menu is really interesting, nice choice of classical thai dishes but also some thiou specialities.
I tried the " assiette degustation" : good chicken satay skewers, good thai beef salad, but really average langoustine nem.
Then of course i took the so famous " tigre qui pleure" i was surprised by the huge portion of beef. It was good, i loved the sticky rice that commes with this dish and I found the carrot salad absouletly with no taste and interest.
Thiou
49 Quai Orsay, Paris
Tel: 33140629650
02 janvier 2013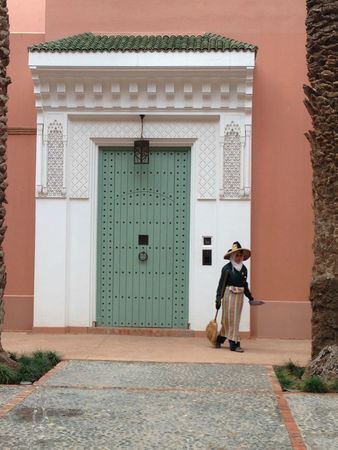 The Royal Mansour is an amazing on of the kind hotel in Marrakech. it's for me the most beautiful place i've ever visited. it's the pearl of morocco hospitality industry, it's all about beauty, luxury and fine moroccan handcraft.
The Royal have been built to reproduce a Medina, small little streets, there's no rooms, only Riad (moroccan style medina houses)
Every nano detail have been studied, even the dress of the gardener that is a traditional haik ( dress of women of the north).
Well... I can talk hours, and pages about this fabulous place, I have took about 300 pictures during my stay. but my blog is about food...
And food is.... as the place, excellent.
Yannick Alleno ( 3 stars chef of the Meurice paris) have been selected to be the executive chef or the royal, There's 3 restaurants, a fine dining moroccan, a fine dining french, and a more casual french restaurant that i will talk about on this post.
of courses the restaurant is really beautiful, the selection of table art really luxurious.... so nice Raynaud plates
the service is good, a bit shacky but good.
the bread is so amazing.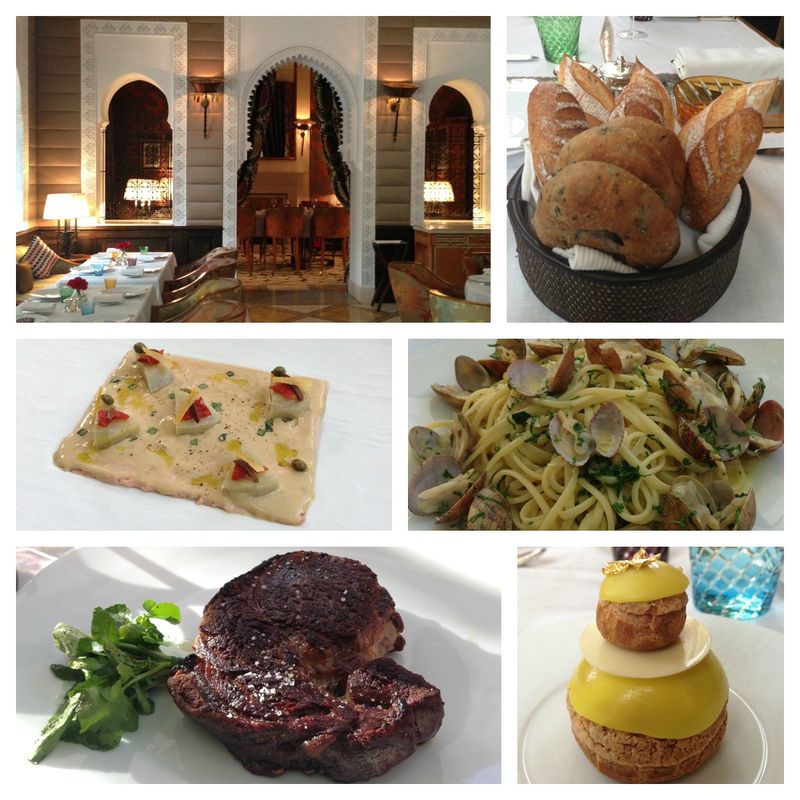 I tried the Vitello tonatto so delicious, the dressing is perfect, then pasta Vongole that was good, a grilled sirloin, well executed and the very good surprise was the dessert....
an amazing Lemon Religieuse...beautiful and so tasty.
I highly recommand you to eat at any of the restaurants @ Royal Mansour if you are in Marrakech, it really deserve it.
yes.... it's expensive... but everything in marrakech is expensive so all in all better to spend money in a place that is beautiful and where the food is good ;-)
Réservation: +212 5 29 80 80 80
tested and written by Mimi
10 décembre 2012
I'm trying for first time Canalblog application for Iphone, if it works it will be really easier for me to post notes on a more regular way.
Well... I just realised you can only post one picture per note...not a problem... Let's make an insta frame ;-)
So today I'm sharing a lovely experience In Rabat...
Yes it can be... :-)
The Dhow is an indian hand made wood boat that have found an amazing place on Bouregreg river just down the "Oudayas Kasbah" one of the most lovely places in Rabat, an old fortress that is dominating the sea and the river.
They arrange the boat so that there's a 2 floor lovely cosy small restaurant , an open sky really loungy terrasse and a super nice well decorated lounge in the hold of the ship.
What about food?
Well let's quickly say that the service is crap... They are sper nice but not pro... But this is not surprising in Morocco.
Food is good...
Yes.... Really!!!
Not a big choice, 5 starters, 5 dishes, 5 desserts
I tried a kind of gaspacho with mozza ( not a good mozza) not bad.
To follow a risotto with sea bream that was really delicious and to finish a fresh millefeuille with caramel that was really good.
I was really well surprised.
Dishes are clean, well presented, well executed....
There's a real effort and passion behind!!!
So i have to say go go go the team of Dhow... Keep on that way... It's the good way!!!
http://www.ledhow.com/
26 octobre 2012
Da Puny is the most famous restaurant in Portofino ( well actually portofino is so small that to be famous between 3 restaurants shouldn't be that difficult)
No I'm jocking...
it's famous for it's simple but delicious sea side italian cuisine with ligure olive oil but it's also famous for being Berlusconi's favorite restaurant.
it's on the small cutie little port of portofino so you cant' miss it.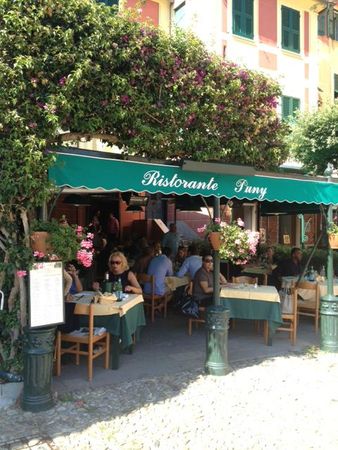 I took the sea salad, and i was expecting a sea salad like everywhere with vegetable and some seafood.
and i had a great surprise it was not like that, it was simple steamed octopussy, squid and scampi and the waiter put on table lemon juice, salt and olive oil. really delicious. I loved it.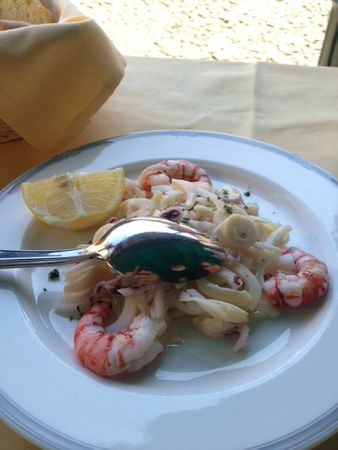 after i tried the Vongole. spaghettis with clams, garlic and parsley.... excellent, just al dente as i like.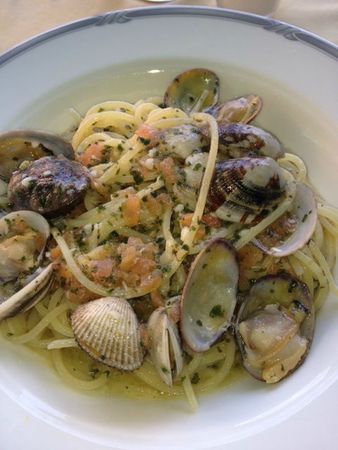 to finish i tried the sea bream in salt crust.delicious. cooked to perfection, with just a line of ligure olive oil on top....
i highly recommand Da Puny, a lovely delicious restaurant and really not expensive.
we were 2 we took statrters, pasta and a fish for 2 and we paid around 100 euros.
Da Puny
Piazza Martiri dell'Olivetta, 5 16034 Portofino Genova, Italie
0185 269037
tried and written by Mimi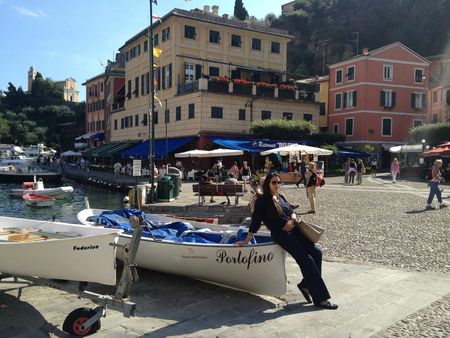 Tetou is "The" spot on the Riviera during the high season. it's a nightmare to get a booking there if you are not Brad pitt or Johnny Depp.
it's known for it's bouillabaisse.
the restaurant is a typical seaside restaurant, white and blue design. not that much thing on the menu.Actually when you go to Tetou, you go for the bouillabaisse or for the grilled lobster. so that's it.
They first put on the table some small pink radish, picholine purple olives and butter ( it's typical on south france)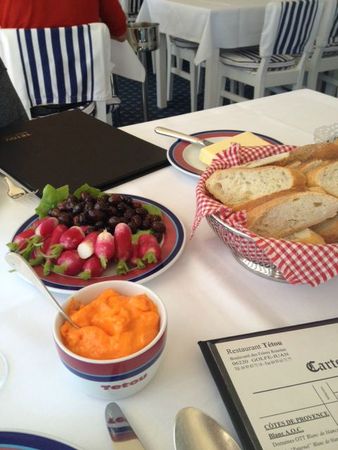 We've ordered the lobster bouillabaisse, it comes for minimum 2. it's really huge so I recommand to take only the bouillabaisse and skip starters.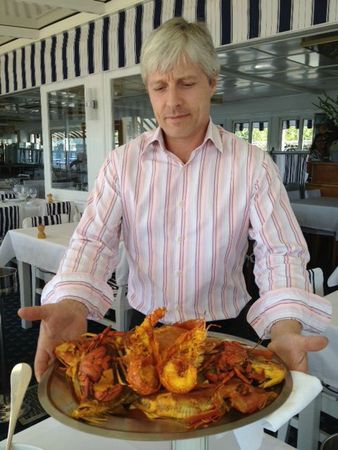 you got 2 services of fish/lobster, the fish soup, the safron potatoes and the rouille and grilled bread.
I have to say that the bouillabaisse is really good.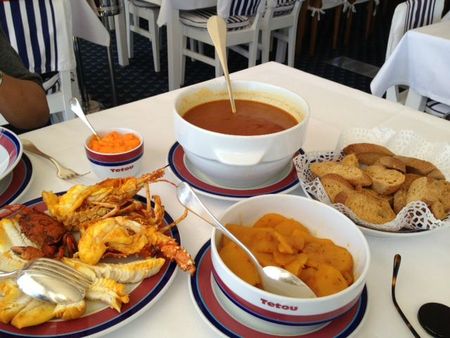 I wanted to have some sweets after that fishy taste. and this was a bad idea. desserts are super crap specially the lemon pie. Grrrrrr.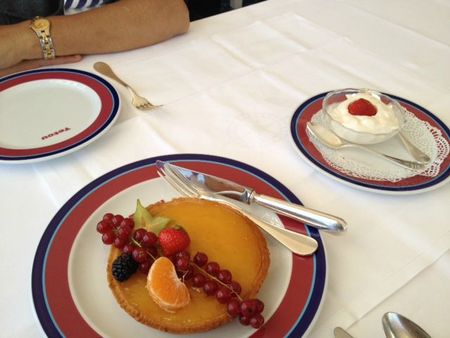 the really bad point of this experience is the bill.... tetou is outpriced... 140 euros per person the bouillabaisse and 17 euros the lemon pie!!!!! WTF!!!!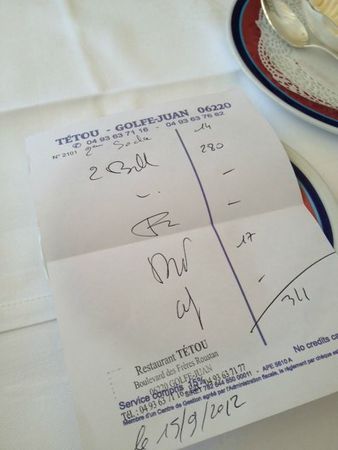 what can I say???
a restaurant to try once in a life just to say I've been to tetou. too expensive for what is it even if the bouillabaisse is good!!!
Tetou
10 bd des Frères Roustan
06220 Golfe-Juan
04 93 63 71 16
07 juin 2012
Le camion qui fume is my favorite surprise of the moment, it's a street food truck....it's not something normal in Paris, it's completelly new....
it's a concept launched by a young american lady, she have studied cooking at Ferrandi school then decided to have a truck, to use social media to promote it and to make good burgers (what is not easy to find in Paris)
and the result is.... a huge success.
you have to follow the "camion qui fume" on twitter or facebook to know about where to find it and what you can eat, then you have to go and to be patient because you will have to queue at least 1 hour.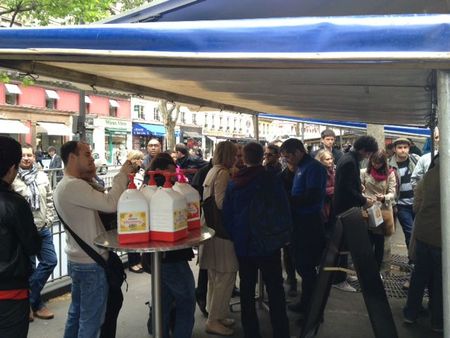 but it's really well organised, there's a guy taking orders, another taking money.... and so one till having your burger without fighting or nothing...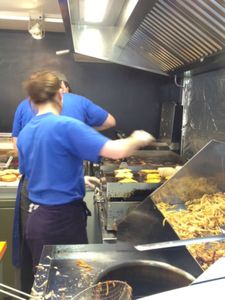 go for the cheeseburger, good house hached meat, real cheddar cheese, nice fresh brioche bread, hand made french fries.
11 euros the menu with a cheese, fries and coke.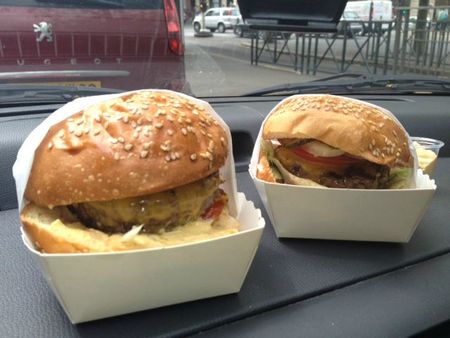 yes I will go again, because yes it delicious.
http://www.lecamionquifume.com/